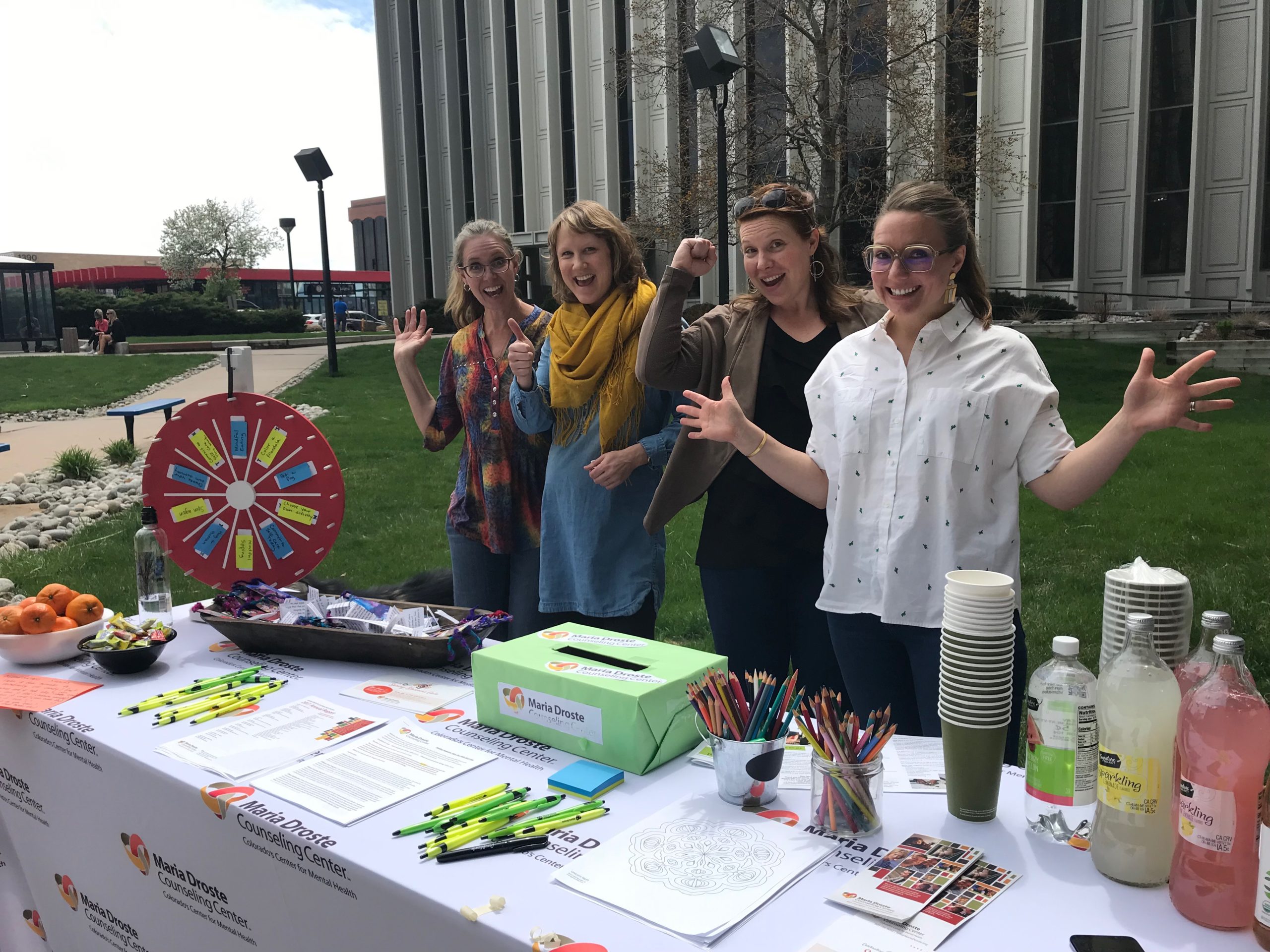 About Maria Droste Counseling Center
About Maria Droste Counseling Center
Maria Droste Counseling Center is a Denver-based nonprofit mental health service organization comprised of mental health professionals, learners and volunteers who are passionate about community, learning, and service. Our uniquely sustainable model of traditional and co-located mental health counseling and clinical training is delivered in collaboration with a group of expert private clinicians.
We train the next generation of mental health therapists and provide mental health counseling services to Coloradans at our Center, via telehealth, and where people live and receive care. We serve individuals of all ages and backgrounds, including children and adolescents, older adults, survivors of domestic violence, and more.
Maria Droste Counseling Center is the collaboration of a non-profit organization and a group of independent practitioners in The Therapist Group, both with a passion for serving others. Building upon this power of community, the Maria Droste Board and MDCC Young Professionals Board support our organization's growth with expertise, insight and creativity. Together, we provide access to mental health care for underserved populations and offer a training institute for psychotherapists.
Who is Maria Droste?
Our center is named in memory of Maria Droste, a Sister of the Good Shepherd who lived in the late 1800's and provided counseling services as part of her ministry to those in need. We use her name because of her charisma and concern for the poor; however, our center is not affiliated with a religious order or the Catholic diocese. Today the mission of Maria Droste Counseling Center is carried out through community collaboration and the significant volunteer efforts of many dedicated mental health professionals.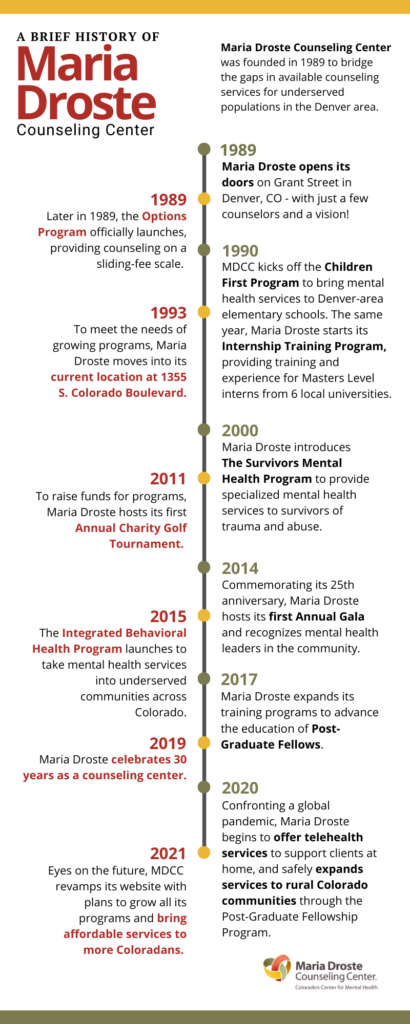 Our Mission
We provide accessible, community-centered, high-quality mental health counseling and clinical training. We serve those seeking healthier lives, regardless of ability to pay.
Our Vision
​Maria Droste Counseling Center seeks to be the leader in high-quality, sustainable, and innovative mental health programs and services for underserved populations. Maria Droste intends to cultivate a strong internal culture for all members: therapists, staff​,​ and board.
Our History
Maria Droste Counseling Center was founded in 1989 to bridge the gaps in available counseling services for underserved populations in the Denver area. Since its inception, the organization has grown in targeted ways to meet significant, unmet mental health needs in the community.
Building Programs to Grow Service
The Options program was established in 1989 to carry out our agency's mission, serving working-poor individuals and families who were "falling through the cracks" of the community mental health care system. In 1991, Maria Droste Services, Inc. incorporated as a non-profit organization.
The Children First outreach program was established in 1990 to provide counseling, mentoring, and support for at-risk children and families at local elementary schools.
We launched the Survivors Mental Health Program in 2000 to provide specialized mental health services to survivors of trauma and abuse. In 2015, we initiated the Integrated Behavioral Health Program to reduce barriers like transportation and stigma by co-locating our services where people already live or receive care. In 2017, we expanded our Clinical Training Program to offer postgraduate fellowship positions in addition to graduate-level internship positions.
We continue to build our services and team year after year. We encourage you to learn more about us and join us for the fun!
Our Commitment to Serving All of Our Community
Our policies and statements are more than words. They are a guiding ethos in all we do.
Anti-Discrimination Policy
Maria Droste Counseling Center is an equal opportunity agency. It is the policy of Maria Droste Counseling Center not to discriminate in the provision of services, board membership, employment, or volunteering on the grounds of race, creed, religion, color, national origin, age, sex, sexual orientation, gender expression, marital status, disability or military status; and to take appropriate affirmative action in connection therewith.
Justice, Equity, Diversity, and Inclusion Statement
In 2019 we embarked on a process with our internal and external stakeholders to create a Justice, Equity, Diversity, and Inclusion (JEDI) vision statement for Maria Droste Counseling Center. Since the creation of our vision statement, we've continued to prioritize JEDI work throughout our organization. Read more about our work here.
Inclusion Statement
Maria Droste Counseling Center is dedicated to providing clients with the best possible care while respecting the dignity and individuality of each. We strive to ensure that counseling services are accessible to, and inclusive of, underserved populations in the community. We are committed to fostering a culture of inclusiveness that values individual differences and provides all clients with fair treatment and equal opportunities to reach their goals.

Have any questions?
We're happy to answer any questions you may have.