Ryan Bittinger, PsyD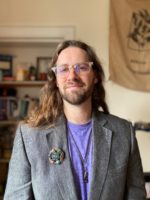 Name:
Ryan Bittinger, PsyD
Approach to Helping :
My approach to helping is to first consider the client as the foremost expert on themselves. In this spirit, I work by getting to know individuals and together exploring their experiences, both past and present. Working together with a strong and trusting relationship, I challenge those I work with to be self-aware and learn difficult truths about themselves and others. This allows each person to learn what they need to know to improve their life and embrace themselves. I acknowledge that counseling is not an easy process for a client – understanding oneself and all the parts of them is a daunting, and frankly terrifying, task. I tell all my clients that they will not leave every session feeling good – though they often may – as we are ultimately working together to process painful experiences. This work often takes us to grappling with big emotions – rage, terror, exhaustion, profound sadness, emptiness, or pure joy. However the session goes, I will be there with them for the joy of a new discovery, or the pain of an old wound.
Through this process, clients can learn more about themselves, how to take care themselves, and what they want out of life. Embracing the ever changing process of self-discovery leads us on a fantastic adventure in which we learn about each part of ourselves and bring our shadow sides into conversation with us. I do this work through a combination of Psychodynamic and Person-Centered Therapy approaches. I know that there is neither a simple path to healing nor a linear route – but I know that trusting in this process will take each of us on a unique and empowering journey.