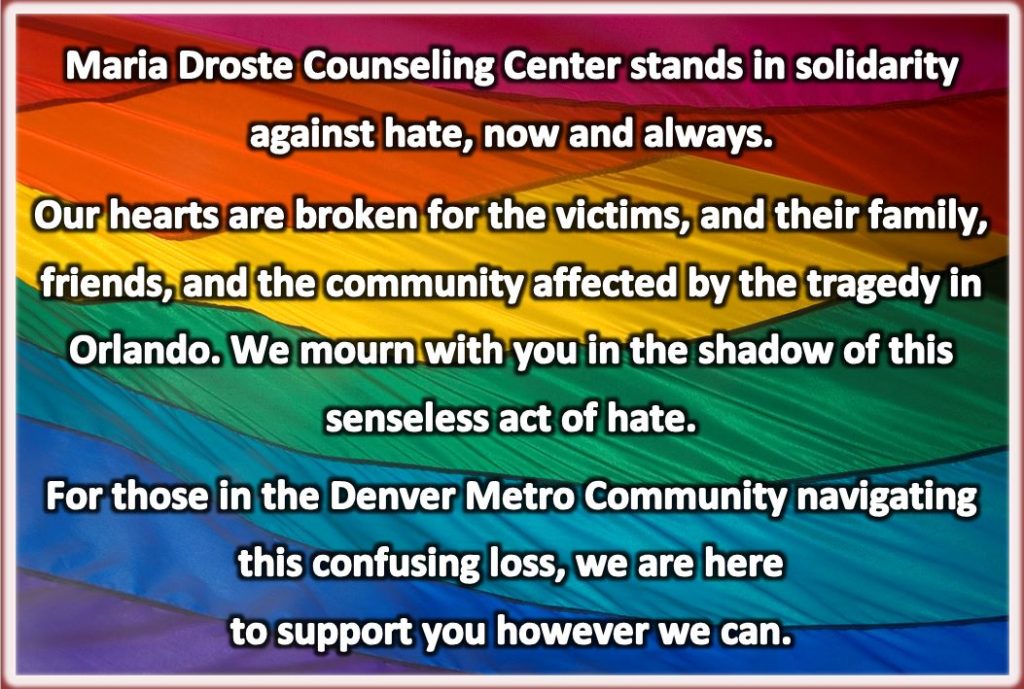 A Commitment to Healing in a Time of Sorrow and Despair
Along with this entire nation, we express our deep sorrow for the recent tragic event in Orlando. We hold in our hearts those whose lives have been lost, along with their families and friends and the GLBTQ community.
For the injured and the survivors, we hope for the best possible care on the path to healing your body, mind and spirit. May you find solace in the outpouring of love from your surrounding communities and those sharing your grief worldwide.
As we live in the aftermath of this tragedy and under the shadow of future acts of aggression, here are some resolutions to consider as we try to shape a future without hateful acts of violence:
to live our lives based on respect for one another, regardless of our differences,
to abide in a peaceful manner and never settle disagreements in a violent way,
to never fall into the trap of blaming entire ethnic groups, races, or religions in response to an individual's actions,
to value that justice, not revenge, prevails in our world,
to show love in the face of hatred,
to be voices of hope and creators of new dreams in times of despair,
to be sources of light in times of darkness,
to reject the belief that forgiveness is weakness, and to embrace it as a source of strength in our lives and in our world,
to commit ourselves to heal the brokenness in our lives, our families, and our community.
[Themes taken from Prayers in Times of Terrorism and The Prayer of St. Frances]
Stand in Solidarity for Orlando
Vigils have been organized across Colorado in honor and remembrance of the victims in Orlando.
9News will keep an updated list of events in the area.
Can't attend a vigil in your area, but would like to participate in the shared support for those affected by this incident? To join the community in spirit, you might opt to light a candle in your home or other place of gathering and reflect in some quiet moments alone, or with family or friends, to honor the survivors, victims, and the Orlando community as the effects of this tragedy develop.
Stand in Solidarity for PRIDE
Join Maria Droste Counseling Center as we stand together with the Denver Metro GLBTQ community this weekend, June 18 and 19, at Denver PRIDEfest. Our booth is located on West 14th Avenue, just north of the W 14th/Broadway intersection, adjacent to the Main Stage. We hope to see you there.
Useful Reading
In September 2015, we posted a blog series on media coverage of devastating events, and how around-the-clock coverage can take a toll on your mental and emotional health. If you, like many of us, tend to be drawn to coverage in the wake of such events, do take steps to self-monitor your intake of media coverage. We often seek reasons behind hateful actions we don't understand, but be mindful that while the media can seem like a logical resource for information, sensational coverage is typically recycled on loop for better viewer ratings.
How to Keep the Media from Increasing Your Stress: Three-Part Series
Part I – Media Coverage of Tragic Events
Part II – Sydney's Story
Part III – Media Coverage and Mental Health Stigma
Need Help?
If you would like to speak to a therapist about this subject or about any other issue you may be experiencing, contact the Maria Droste Access Center at 303-867-4600.
Get Informative Posts like this Sent to Your Inbox
Maria Droste posts regularly on helpful mental health and wellness subjects like the one you just read. We send these out in our free monthly newsletter. Subscribe today and get informative reads like this sent straight to your inbox.
For additional resources and support, you can reach the Access Center at Maria Droste at 303-867-4600.